Order your MMS merchandise now
You can order MMS logo tee-shirts, sweatshirts, and patches online from now through November 1st, 2018 at midnight!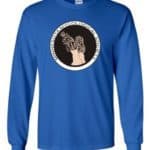 To view these items (including prices and color choices) and also place orders, click on the link below:
Threads and Inks MMS merchandise
Depending on when you order them, your order will be available for pickup at our regular meetings and other events; up to and including the annual MMS Potluck on November 12th. Make other arrangements if needed with John Lamprecht: jml313@aol.com.